MHCO Classifieds
All members of the MHCO may place ads free of charge - on horses or items they own.
Members can post new classifieds and manage current classifieds within the members section.
These pages are for advertising Miniature Horses and related items, only.
Please note: Ads will be posted within 48 hours at the latest by the approvers.
Be advised, while most of the advertised horses are of show quality, some are considered pet quality for various reasons.
Information is posted exactly as submitted by the seller. The MHCO does not verify any details.
It is the responsibility of the buyer to validate all information.
Please click the ad title or image for more information.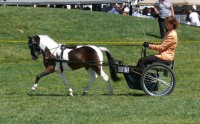 Offering a variety of services for Miniature Horses and their Humans. Training in Halter, Performance and Driving, Lessons & Clinics Showing Client Horses: We can show your horse at a variety of shows (local Shows such as fairs, Club shows, Sanctioned shows, Area shows, National Shows) Other services:Catch Handling for horses not currently in training (take your horse into the ring to show for you - horse must be prepped and show presentable) We can help you sell your horse and/or find you a horse. All fees are listed on our website www.dakotawindsfarm.com under Training. All fees will be specified in client/trainer contract -no hidden fees....
03/16/2013
Meaford